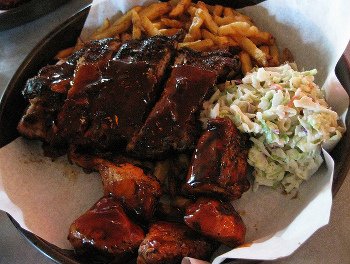 "Cole slaw?" asks the counter boy at Jasper's BBQ. "Hey, mister! C'mon." I give the harried teenager a foggy look, standing stupidly between a line of hungry Mississippians and their ribs.
Was that Marcie?
Over there, at the farthest bench. Sure looks like Marcie, but she wouldn't be in Tupelo. I know all my exes live in Texas, like that song. I'm in this shit-hole mostly 'cause here is where they ain't.
"Yeah, cole slaw. Thankie," I mumble. The kid slaps a large helping on the wax paper next to the mess of ribs, hands me the plastic basket, moving on to someone else before I can ask for more sauce.
I pay and grab a fistful of napkins, trying to get a look at her face. Classic Hank Williams crooning: Heeeeey, good lookin'! Whaaaahhhhh-cha got cookin'? . . . She's got Marcie's blonde Texas-halo of hair, and Texas-sized curves filling skin-tight jeans and a bulging red blouse. Red – my new favorite color. Oo-wee! Marcie or no, I gotta get me a closer look.
For Hank.
She's talking with some girlfriend who's wearing a top just as tight, just as sexy. I see room on the bench right in front of the two hottest girls in the joint. Out of habit I review my excuse about the last five alimony payments. I drop my ribs and sweet tea to the table in time to the honky-tonk, and swing my legs over the bench just as Hank brings it home. Then I look up at my quarry.
Marcie.
The jukebox mocks me by going all Christian: Dropkick me Jesus, through the goal-posts of life . . . Shit. In a flash I'm on my feet.
"What's the rush, sugar?" says a familiar voice. I squint at Marcie's friend.
"Evie?"
"Why Chuck, you're white as a sheet," says Marcie, sounding satisfied.
I blink at my first wife. "Your hair, Evie. I didn't recognize you."
"Didn't recognize Evie," says Marcie. "What about me, Chuck?"
"I thought you two . . . hated each other."
"Oh, we do," coos Evie with a smile.
"But we hate you more, Chuck," says Marcie, always the hard-ass.
"We're goin' all Thelma and Louise, huh, Marcie?"
"Oh, yeah. Some sort of fun trackin' you down, Chuckie."
"Guess that makes me Brad Pitt?" I half smile and grimace.
"No, honey, that makes you . . ." Marcie turns to Evie. "Who was that one who gets shot?"
"You girls got guns?" I slowly pick up my basket of ribs.
"Nah, sugar," purrs Evie. "We ain't gonna hurt you." I shoulda stuck with Evie. Way sexier as a brunette, too.
Marcie points back over her shoulder. "That's what Pete's gonna do." Evie turns around and waves toward a mountain of a man holding a bat and wearing a scowl. I drop my ribs and run.
Time to try Alabama, I guess. Never say never.
---
All My Exes was a finalist in the 2015 WritingXWriters Boulder Flash Fiction contest